Nipon Ham Co. Ltd. Corporate
【Purpose of using CMS】
To improve performance
To enhanced security
To add volume of contents
---
Global Site

Corporate
---
View the site
Usage Plan

Package offer plan

Device Used

PC / Smartphone

Construction Period

4 months

Design Creation

-

Language

Japanese

RCMS embedded

Corporation

Customize

Present
Improved performance
In the previous CMS, when multiple processes were executed on the same server, there was an incident that the site became heavy. With RCMS, even when multiple processing is done on the same server, access is done without deteriorating the performance.
Security measures are also standard
One of the main reason of using RCMS is that although RCMS is a relation to CMS, it has a comprehensive security management function and security measures.

Comparative to traditional CMS where the security is lacking, RCMS has direct support from Diverta Co. Ltd; therefore it is possible to operate with confidence even after completion of the site.
① Addition of content also realized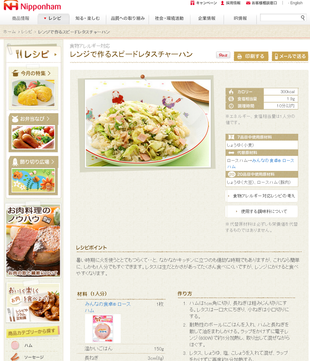 Registering recipes for - Food Allergies are possible
There is another site called "
Food Allergy Net
", a food allergy information site operated by Nippon Ham Co. Ltd.
In order to post the recipe published here on Nihonhamu WEB site and also to post equivalent allergy information, we refine the allergy information of food allergy support recipe and improve allergy information.
Information as such, mothers with allergic children can use this recipe information with peace of mind.
Sample of compatible food allergy recipe:
Speed lettuce fried rice »
② Addition of contents also realized
We made it possible to register products into groups
Since image linking is possible in the material column of the recipe page, we divide our company products to different groups to place in the relevant page with an image link.
(Posted information on vanilla yogurt of Group company Luna Inc.)
Banana yogurt pancake »
Voice of client staff
Up to now, I was using another CMS, but it requires quite a lot of time and cost every time we customized it. In the case of RCMS, since the degree of freedom of customization is high, any minor adjustments are possible, it is extremely helpful because we can respond quickly within an annual maintenance contract.

In addition, we can be relieved because our support system is solid even in security measures that our company alone is difficult to deal with or judge.

Contact: Nippon Ham Co., Ltd. Corporate Communications Promotion Office