Site Construction Platform
RCMS is not just a CMS, it is a general-purpose WEBSITE building platform which can correspond from the site for individual users to the site for companies of various industry.
RCMS is evolving CMS
RCMS is an abbreviation of "Relational Content Management System". Inserting the various contents into DB (metadata) and relating them to the platform, CMS (Content Management System) for constructing advanced website is made easier than ever.

Major features of using RCMS includes:
You can freely choose infrastructure such as SaaS version, virtual dedicated server version, server installation version etc
The number of functions is over 250. Almost all functions as CMS are implemented
Easy to use user interface Fine-grained multi-device / multilingual support
It is possible to flexibly customize designs and modules. Addition of functions · Customized development possible
Always catch up with advances in technology, reflecting state-of-the-art know-how and systems
By linking with the external API, it is possible to treat the external content as the underlying self-site content
Collect user's voice and support system by support forum installed on all management screens
Brush up by being used by many users for a free version. Intermittent upgrade in SaaS version
Since content can be handled in a versatile manner by maintaining the metadata of contents and maintaining their relevance, it is unnecessary to change contents even if the system is updated.
R of RCMS is "Relational" = "relevance"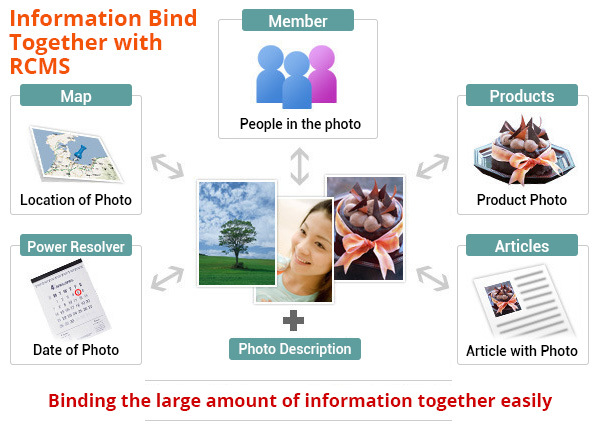 RCMS can be used to combine the various form of information which is not related to each other and present it in one place. The greatest features of the RCMS is that it can determine the type of relationship of the information and associate them together. Having the capability of linking the information together, information distribution to users will be optimal.
RCMS manages data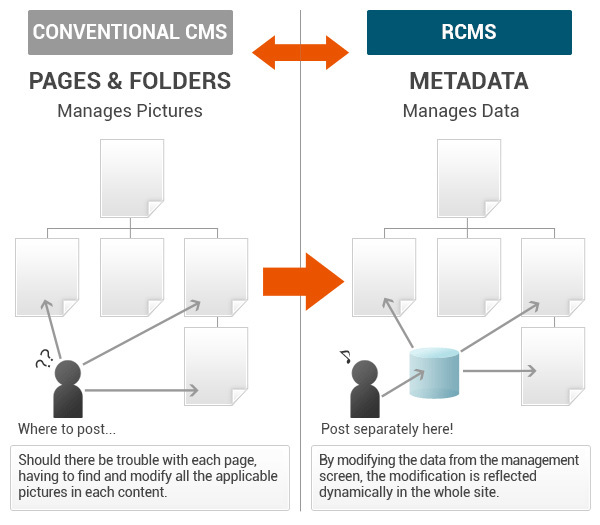 The biggest difference between conventional CMS and RCMS is data management instead of page and folder management. When managing page and folders, one must be aware of the broken links and having to understand the composition of the entire site. In RCMS, the composition of the site and the data are managed separately. Therefore, no matter how the update is done, the site composition will not be confused.